Friction Stir Welding Manufacturing Process
Friction Stir Welding (FSW)
The principle of friction stir welding is to use the heat generated by the friction between the high-speed rotating stirring head and the workpiece.

The surface of the workpiece is partially softened, and plastic flow occurs under the stirring action of the stirring head, forming an inseparable connection between atoms.
---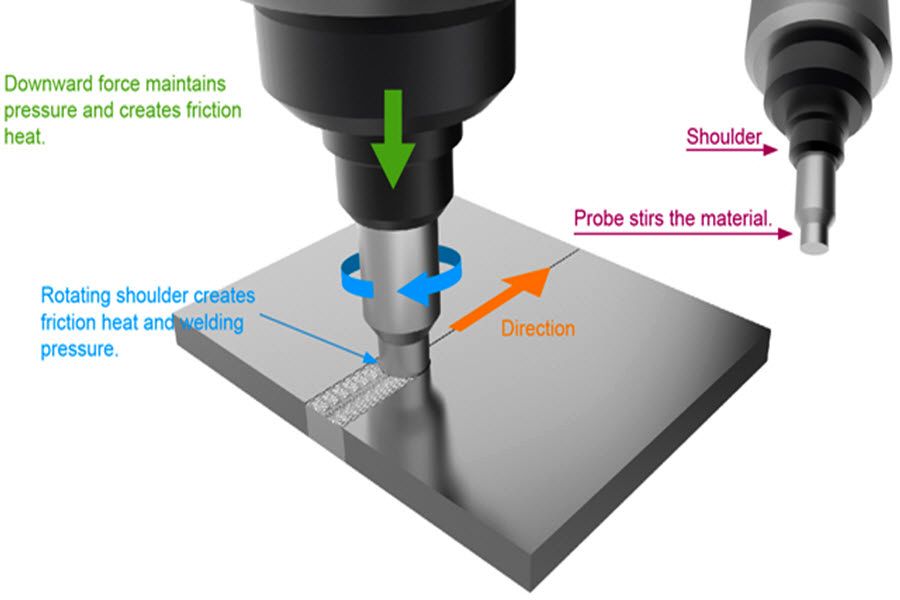 Advantages of Friction Stir Welding
No solder is required during the soldering process, and there is no problem of solder overflow.
The welding process is a metal recrystallization process with strong strength.
The use of friction stir welding for large workpieces can greatly save mold costs.
Welding parts do not need surface treatment first.
The main application range of friction stir welding
IGBT devices, welding equipment, electrical equipment, high-power semiconductors, laser systems, renewable energy, factory automation, thermoelectric modules-TEC, uninterruptible power supply systems, AC welding switches, power rectification equipment, power rectification equipment, Traction control motor drive cooling industry: large heat sinks, large water cooling plates.
Friction Stir Welding Production
Prepare the aluminum material according to the design drawing (large heat sink or water cooling plate), and understand the size and water flow pipe design.
(Large heat sink) Aluminum extrusion splicing size / (Large water cooling plate) Aluminum water channel area is spliced together after completion.
Perform bottom surface polishing and other treatments.
Appearance surface treatment.
(Large water-cooled plate) for leak test.
Gallery

Video