Magnetic Dustproof Fan Filter
MFF Series
Fan Guard
EVERCOOL magnetic dust-proof fan filter, the filter can be easily attached to the iron case. And there are standard fan screw holes for screw locking. It is very suitable for use in the air inlet of the cabinet or equipment.
The high-density nylon filter effectively prevents dust and foreign matter from entering the interior, prevents dust from accumulating, and prolongs the service life of the device. The filter can be washed and reused.
This magnetic dust-proof fan filter has four different sizes, users can choose according to the size of the fan and ventilation holes.
Features
There are two assembly methods: magnetic suction and standard hole locking.
Easy and convenient to fix with magnetic suction.
Specification
Material: Plastic and Magnetic Frame, Nylon Filter
Mesh: 40 mesh
Color: Black
Specification Chart
| Model No. | Size (cm) |
| --- | --- |
| MFF-08 | 8 x 8 |
| MFF-09 | 9 x 9 |
| MFF-12 | 12 x 12 |
| MFF-14 | 14 x 14 |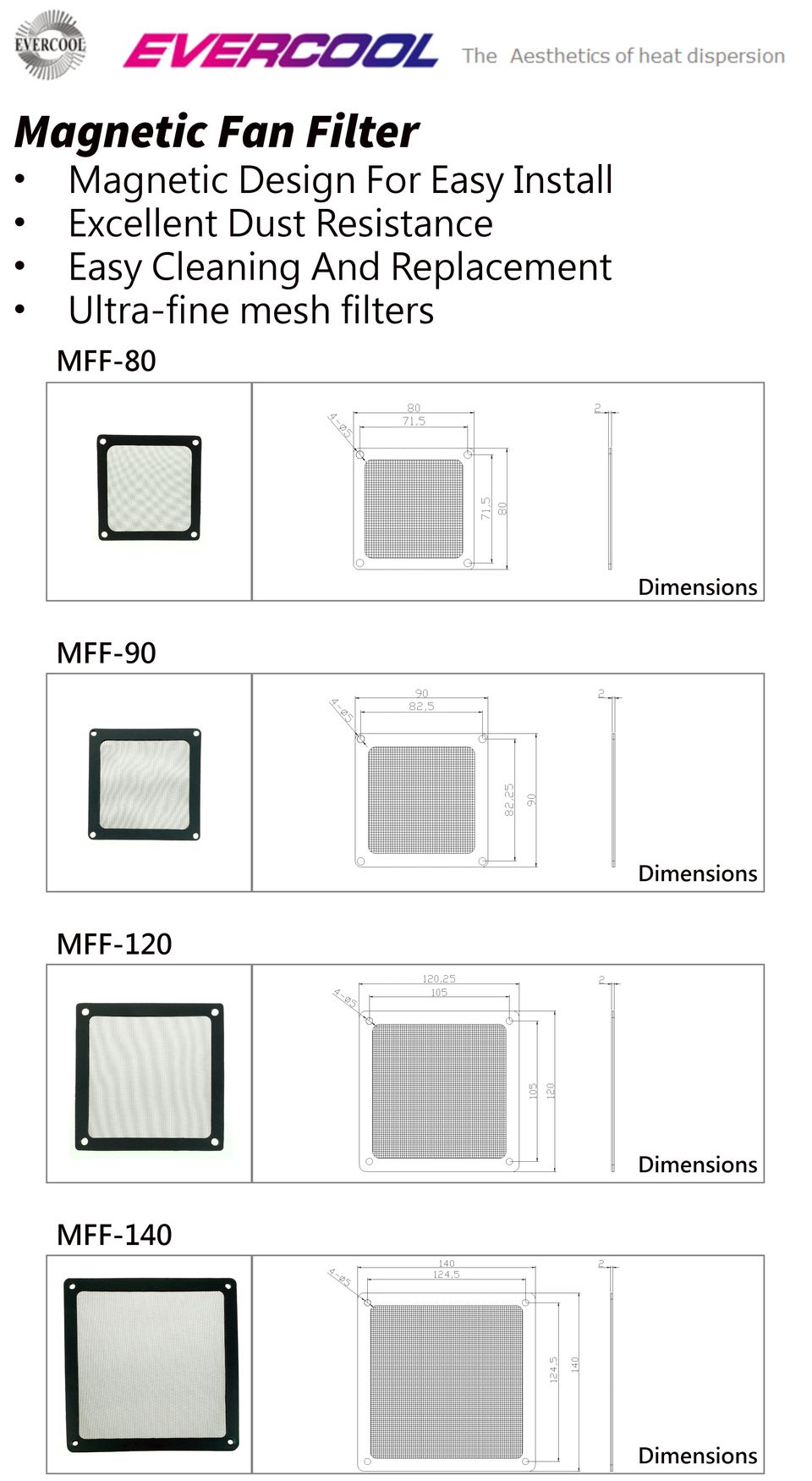 Gallery
Magnetic Dustproof Fan Filter | Aluminum Extruded Cooler Manufacturer | EVERCOOL
Based in Taiwan since 1992, EVERCOOL Thermal Co., Ltd. has been a manufacturer of CPU coolers. Its main products include, Magnetic Dustproof Fan Filter, CPU cooling system, CPU cooler radiator, extruded aluminum heatsink CPU cooler, low profile CPU cooling cooler fan, SSD cooling fan, HDD cooling fan, hard drive cooler and related peripheral products, which are non-toxic and has passed CE, UL and TUV standards.
EVERCOOL has more than 30 years of experience in R&D and manufacturing of various fans and heat sinks, providing customers with a full range of cooling solutions and professional consulting services. With 30 years of experience in designing and manufacturing DC fans, AC fans, heatsinks, heat pipes, and related peripheral products.
EVERCOOL has been providing customers with high quality CPU coolers since 1992, with both advanced technology and 18 years of experience, EVERCOOL ensures that each customer's requirements are met.