60mm x 60mm x 15.8mm 12V DC Blower Fan
EC6015-B Series
DC Turbo Fan, Centrifugal Fan
The size of the DC turbo fan is 60mm x 60mm x 15.8mm, the speed is 4000 ~ 5500RPM, and the operating voltage is 12V. Different speeds are provided for customers to choose and match for the required environment.
EVERCOOL provides customized services for fan terminals and wire lengths to optimize your system thermal management.
Passed ISO 9001 certification, providing DC blower solutions to major international manufacturers, the quality and service are worthy of your trust. Blower safety regulations also have UL, TUV and CE certification.
Application
Desktop computer and peripheral heat dissipation.
Industrial computer heat dissipation.
Heat dissipation of Netcom products.
LED light heat dissipation.
Air purifier fan.
Household appliance cooling fan.
Power Tool Charger Heat Dissipation.
3D printer cooling.
Car seat cooling fan.
Sound system heat dissipation.
Heat dissipation of fitness equipment.
Cooling fans for printers and photocopiers.
Inverter cooling fan.
Heat dissipation of medical equipment.
Desktop small cooling fan.
Heat dissipation of broadcasting system.
Air quality monitor fans.
Communication system heat dissipation.
Household Ventilation Fan.
Heat dissipation of IoT products.
Monitor system heat dissipation.
Game console heat dissipation.
Power system cooling fan.
Specification Chart
Model No.
Rated Voltage
Rated Current
Power Consumption
Speed
Air Flow
Static Pressure
Noise
Weight
P-Q Curve
(VDC)
(Amp)
(Watts)
(R.P.M.)
(CFM)
(Inch-H2O)
(dBA)
(g)
EC6015HH12-B
12
0.22
2.64
5500
6.02
0.38
< 34.0
35.5
HH
EC6015H12-B
0.18
2.16
5000
5.52
0.33
< 33.0
H
EC6015M12-B
0.17
2.04
4500
4.73
0.27
< 32.0
M
EC6015L12-B
0.14
1.68
4000
4.20
0.22
< 31.0
L
EVERCOOL Model Numbering System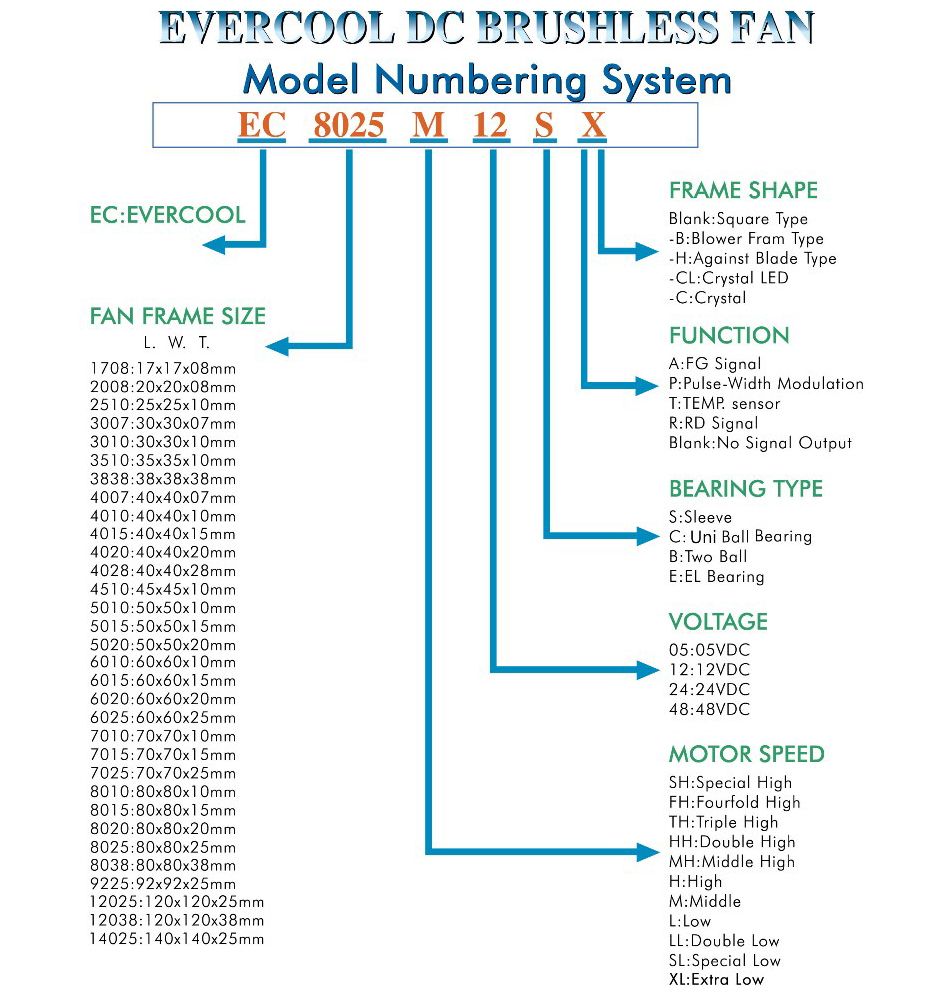 Gallery
60mm x 60mm x 15.8mm 12V DC Blower Fan | Aluminum Extruded Cooler Manufacturer | EVERCOOL
Based in Taiwan since 1992, EVERCOOL Thermal Co., Ltd. has been a manufacturer of CPU coolers. Its main products include, 60mm x 60mm x 15.8mm 12V DC Blower Fan, CPU cooling system, CPU cooler radiator, extruded aluminum heatsink CPU cooler, low profile CPU cooling cooler fan, SSD cooling fan, HDD cooling fan, hard drive cooler and related peripheral products, which are non-toxic and has passed CE, UL and TUV standards.
EVERCOOL has more than 30 years of experience in R&D and manufacturing of various fans and heat sinks, providing customers with a full range of cooling solutions and professional consulting services. With 30 years of experience in designing and manufacturing DC fans, AC fans, heatsinks, heat pipes, and related peripheral products.
EVERCOOL has been providing customers with high quality CPU coolers since 1992, with both advanced technology and 18 years of experience, EVERCOOL ensures that each customer's requirements are met.